Lessons from frequent winners of the AIA cote top ten award, 1997-2016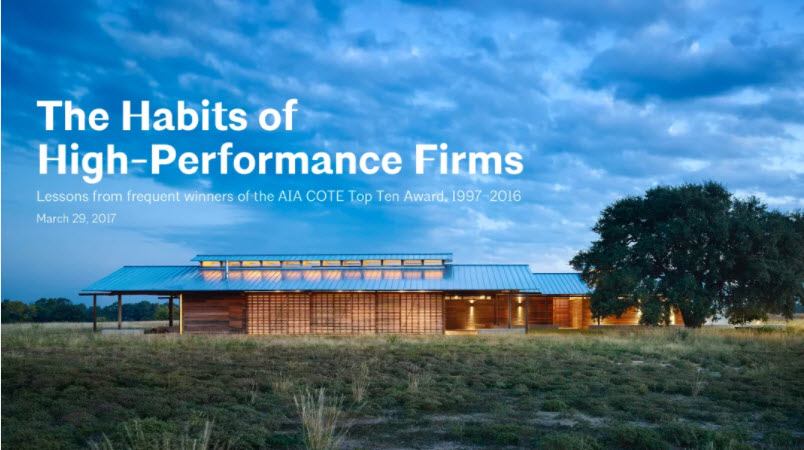 Recently, the American Institute of Architects published an article about the Habits of High-Performance Firms based on the habits of winners of the AIA COTE Top Ten Award. What is the COTE Top Ten Award, you may be asking? AIA COTE stands for "The Committee on the Environment" and they serve as the community and voice on behalf of the AIA architects regarding sustainable design. to learn more about COTE click here. 
​Of the 130 architecture firms that have received at least one COTE Top Ten Award, 29 have done so more than once and 17 have three or more times. Of those receiving more than three COTE Top Ten Awards, 59 percent have also been recognized as AIA Firm Award recipients, the AIA's highest award given to architecture firms.
According to the report these high-performance firms have the following traits:
unanimous signing of the AIA 2030 Commitment
significantly high project performance for energy, water, and other metrics
energy modeling, daylighting modeling, and post-occupancy evaluations as standard practice
geographic concentration (47 percent on the West Coast)
medium size (average staff number of 75)
a high percentage of women in staff (46 percent) and leadership positions (34 percent)
low staff turnover (under 10 percent)
a high percentage of staff with LEED accreditation (48 percent)
DOWNLOAD THE HABITS OF HIGH PERFORMANCE FIRMS HERE!